"Quite simply the best framer I have ever used in my 30 year career" - R. A. Munday
We are dedicated to providing our customers with sound advice, imaginative solutions and a superior product. We will do our utmost to understand your ideas and interpret your requirements. Our experience and expertise combined with a pragmatic approach to problem solving enables us to frame almost anything to a very high standard. Because we care we use approved conservation framing techniques on all artwork we frame.
All or workmanship is unconditionally guaranteed.
There are "5 levels of framing" specified by the Fine Art Trade Guild. They are:
1. Minimum
2. Budget
3. Commended
4. Conservation
5. Museum
We are dedicated to providing customers imaginative and artistic solutions to produce a superior quality framing. Your art will be in safe hands as we are Fine Arts Guild Commended Framers with over 16 years experience. As specialist picture framers, Arte undertake only the "Commended", "Conservation" and "Museum" framing levels.
Commended:
To visually enhance and offer moderate level of protection from physical and mechanical damage, airborne pollutants and acids generated by framing materials, for around 5 years in normal conditions.
Suitable for replaceable artwork of limited commercial and /or sentimental value, and where visual appearance is important. Preferably processes should be reversible. The first level at which we would prefer to work.
Conservation:
To visually enhance and offer moderate level of protection from physical and mechanical damage, airborne pollutants and acids generated by framing materials, for up to 35 years in normal conditions. Ideally frames should be examined by the framer or conservator every 5 years and there should be label advising this on the back of the frame.
Suitable for collectable artwork that is to be kept for future generations, e.g. original paintings and limited editions of moderate to high value as well as sentimental value.
Museum:
To visually enhance and offer moderate level of protection from physical and mechanical damage, airborne pollutants and acids generated by framing materials, for approximately 20 years in normal conditions. Ideally frames should be examined by the framer or conservator every 5 years and there should be label advising this on the back of the frame.
Suitable for museum-quality works and artwork that is to be preserved for the future, including high value items and artwork of potential or historical value. Processes must be fully reversible. The ultimate in framing excellence.
"Having had various works of original art framed at Arte, I can attest to their experience, expertise and professionalism. I set an extremely high standard, and Arte has delivered each time. In addition to their excellent service, they have made inspired recommendations on frames – they will help you choose the perfect frame and matte combination for making the artwork truly stand out. I trust them to do excellent wow" - M. Busch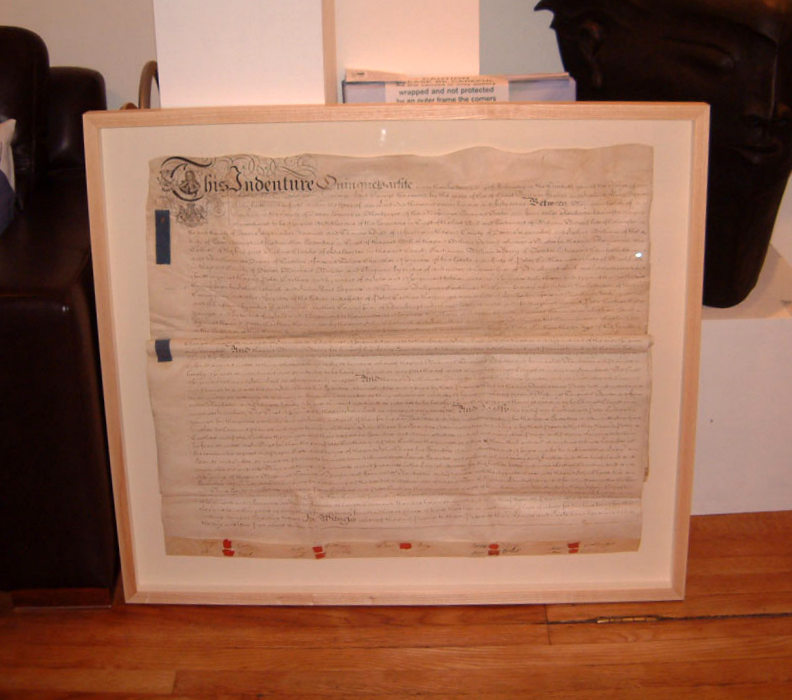 The archiving of collections of art requires an additional set of skills and competencies to those of the picture frame.
As this is such a complex and diverse subject, please contact us directly to discuss your requirement.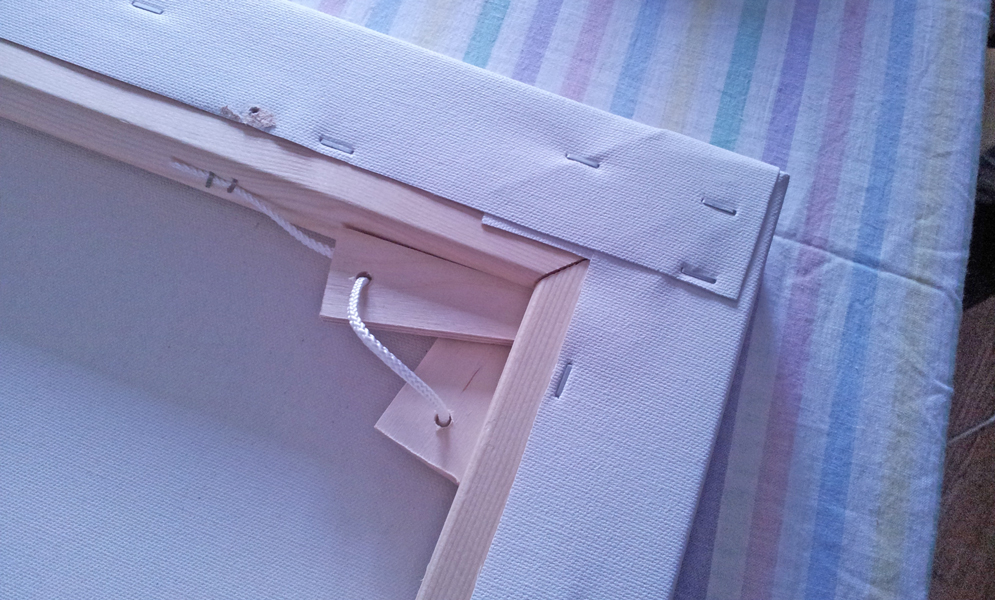 Canvas Stretching:
We can stretch almost any material based art work including oils, acrylics and inkjet prints on canvas, linen, calico or hessian. If possible we will use "off the self" standard stretcher bars which are available in most common canvas sizes. However, if you have an odd sized canvas we can tailor make stretches to suit.
Large canvases will have strategically positioned intermediate stretchers. For longevity we only use stainless staples, made from an alloy of 33% copper and 66% nickel, or copper tacks to secure the canvas.
Canvas Laminating:
Canvas laminating is a cost effective alternative to canvas bonding. In this process the artwork, usually cropped to the image, is first bonded to a board substrate. The image surface is then laminated using a hot vacuum press with a textured film resembling canvas or linen. It is usual practice to close frame the image without glass or a mount.
Glass is glass is glass – right? Wrong,
Our standard glass is Water White float, the ideal alternative to ordinary green tinted float glass. It is a completely colourless clear float glass, offering outstanding colour reproduction.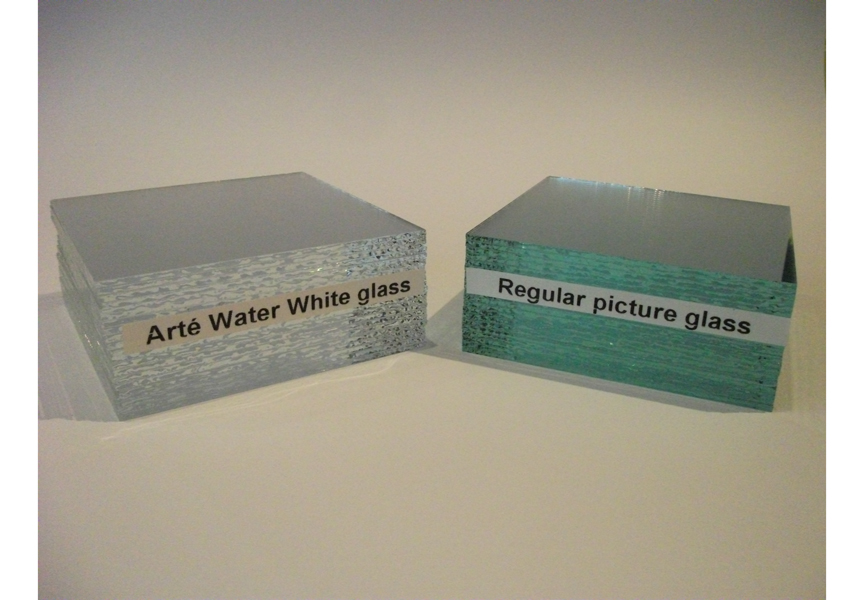 Ultra Violet Protection Glass:
Conservation picture framing needs more than just plain old glass.
One of the most dangerous elements your artwork can encounter is Ultraviolet light. It will fade your colours, bleach your photographs and in a very short time it will start to destroy the very materials themselves.
However not all is lost. We have a range of specialist picture framing glass that is formulated to protect framed works of art by filtering out between 84% and 96% of these damaging ultraviolet rays. UV protection glass is available in a variety of surface finishes – plain clear, reduced reflection and an almost invisible museum grade.
Invisible Glass: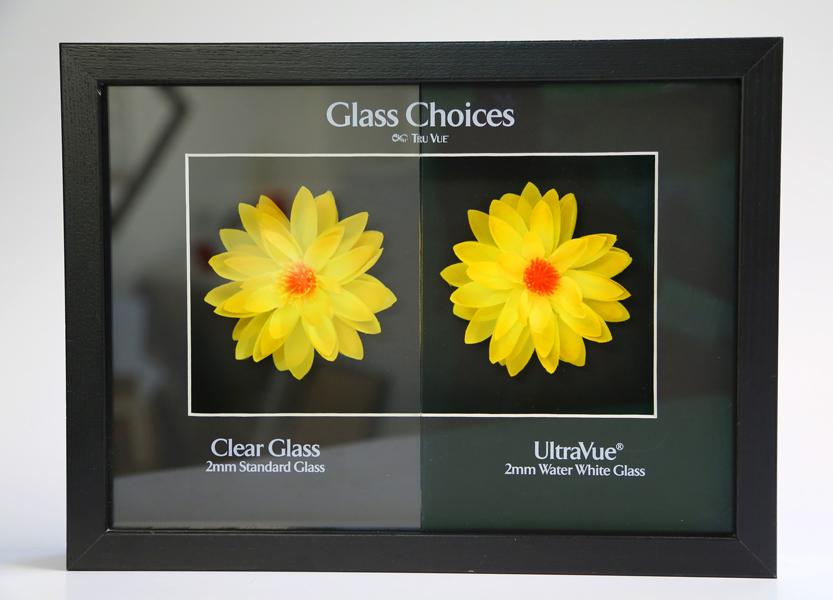 Conventional picture framing glass typically reflects 8% of incoming light, distracting the viewer with mirror-like reflections. With reduced reflection glass, light reflections is as low as 0.5% thus offering 16 times less reflection and eliminating any mirror- like effects. Reduced reflection glass provides up to 99% light transmission, making it practically invisible so all the viewer sees is pure art.
Plastic Glass:
We have a variety of plastic glass solutions for use in high risk situations such as pubs and clubs. We have examples of all types of glass we use so you can see the difference for yourself and we will be happy to discuss which will be appropriate for your artwork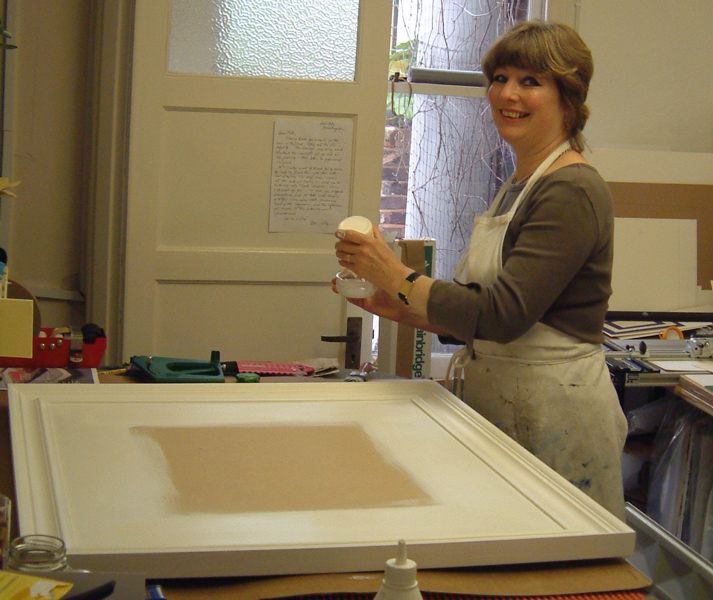 Hand Decorated Frames:
In addition to our enormous selection of pre-finished profiles, we can decorate any plain wood moulding in a variety of finishes. Solid paint effects, colour washes and waxing in colour or lime are all possible.
Hand Decorated Mounts:
We can embellish window mounts in a variety of ways. Traditional line and wash, gold and silver lines, vee grooves, filigree slips, build-ups and inserts are just a few of the ways in which we can decorate a mount to enhance an image.
Over the years we have been asked to frame all manner of memorabilia. The list includes rugby and football shirts, menus, dried flowers and bouquets, football boots, wedding cakes, bootees, certificates, butterflies, coins and medals, cigarette cards and ballet shoes.
Memorabilia framing is something we enjoy and we relish the opportunity to experiment with new and interesting ways of displaying your treasures in an imaginative way.
Hot and Cold Mounting:
We can mount (stick) all manner of images, usually paper based art, prints and photographs, onto any number of substrates using either a heated vacuum press or cold roller press. Substrates include MDF,Foamex, foam core, hardboard, boxboard, aluminium, stainless steel, glass and acrylic. Once mounted the surfaces can be protected by laminating or heat sealing.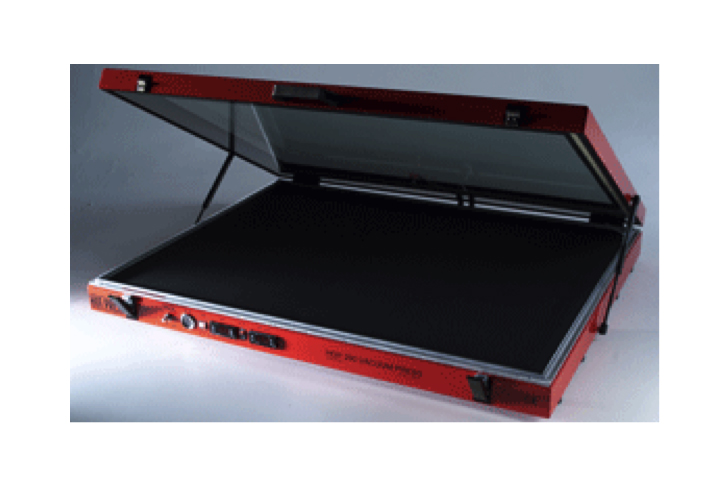 We recommend that this treatment should only be applied to artwork that is replaceable as the processes involved are to all intents and purposes irreversible. However, we do have a special acid free adhesive film we can use in exceptional circumstances. Will be happy to discuss the most suitable treatment for your artwork.To protect images that will not be glazed we can bond a thin plastic film to the surface. We normally apply this using a vacuum heat press. However, some inkjet processes require that the laminate is applied cold in these instances we use a roller press. Laminating is particularly useful where the artwork is to be displayed in areas where the use of glass would be considered dangerous.
Mount Cutting:

We only use the highest quality museum cotton rag and conservation "artcare" mount boards to care for and preserve your precious artwork. Our state of the art Gunnar F1 Ex mount cutter enables us to produce every kind of window mount imaginable; the possibilities are only limited by ones imagination. We hand finish mount board slips and filets and can produce individually coloured deep beveled under mounts. We also produce hand drawn line and wash decorations.
Framing any kind of needle art be it needlepoint, tapestry, cross-stitch or black work requires a special set of skills. We have been framing all manor of needle art for over 16 years and over that time have developed our own system for dealing with the many difficulties associated with the medium.
As Framing needle art tends to be expensive owing to the time involved in preparing the work we are happy to show you how to do the most time consuming part, that of lacing the work to a ph neutral backing board. Once laced the work can be framed using traditional framing skills.
Follow us: